ACHIEVEMENTS / PROGRESS UNDER SAMAGRA SHIKSHA (ELEMENTARY) & KGBV DURING 2018-19
SCHOOL SCENARIO 2018-19
| School Management | Pry. only (I-V) | Pry. & UP (I -VII/VIII) | UP only (VI - VII/VIII) | Pry. to Hr. Sec. (I - XII) | UP. Pry. to Hr. Sec. (VI-XIII) | Pry. to Sec. (I/IV-X) | UP Pry. to Sec. (VI/VIII - X) | Secondary only (IX-X) | Hr. Sec. only (XI-XII) | Grand Total |
| --- | --- | --- | --- | --- | --- | --- | --- | --- | --- | --- |
| Department of Education | 32072 | 14889 | 1228 | 0 | 190 | 2537 | 1223 | 1137 | 315 | 53591 |
| Tribal/Social Welfare Dept. | 444 | 799 | 9 | 6 | 15 | 162 | 197 | 3 | 29 | 1664 |
| Govt. Schools | 32516 | 15688 | 1237 | 6 | 205 | 2699 | 1420 | 1140 | 344 | 55255 |
| Govt. Aided | 274 | 33 | 1565 | 0 | 3 | 16 | 2218 | 1055 | 606 | 5770 |
| Govt. & Aided Schools | 32790 | 15721 | 2802 | 6 | 208 | 2715 | 3638 | 2195 | 950 | 61025 |
| Pvt. Unaided (Recognised) | 1063 | 2324 | 113 | 129 | 3 | 450 | 198 | 110 | 567 | 4957 |
| Others | 42 | 37 | 0 | 0 | 0 | 23 | 2 | 1 | 11 | 116 |
| Pvt. Unrecognised | 1050 | 792 | 38 | 12 | 1 | 69 | 49 | 20 | 424 | 2455 |
| Central Govt. Managed | 1 | 7 | 0 | 44 | 43 | 13 | 3 | 1 | 0 | 112 |
| Madrassa Recognised | 39 | 3 | 0 | 0 | 0 | 1 | 0 | 0 | 0 | 43 |
| Madrassa Unrecognised | 9 | 0 | 0 | 0 | 0 | 0 | 0 | 0 | 0 | 9 |
| Total | 34994 | 18884 | 2953 | 191 | 255 | 3271 | 3890 | 2327 | 1952 | 68717 |
ENROLMENT TREND (ELEMENTARY)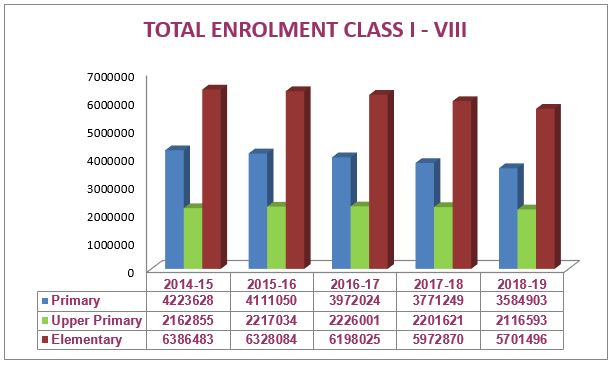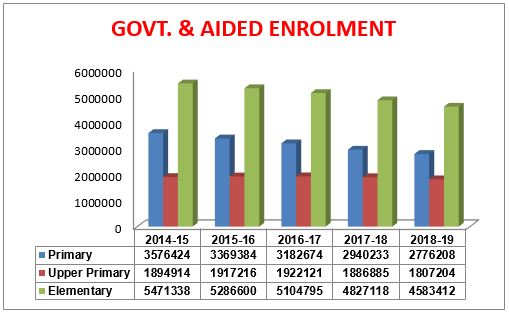 EDUCATIONAL INDICATORS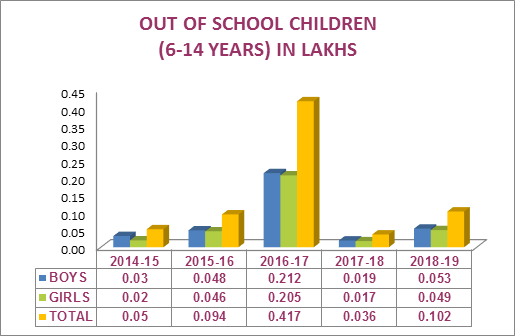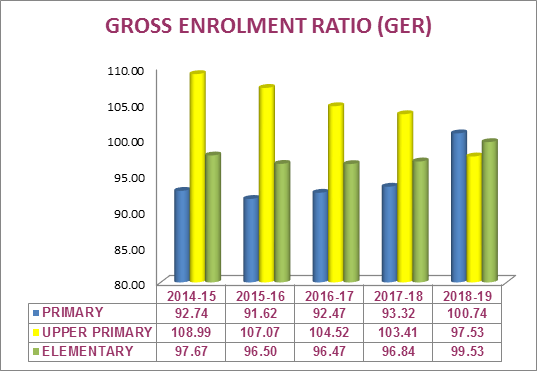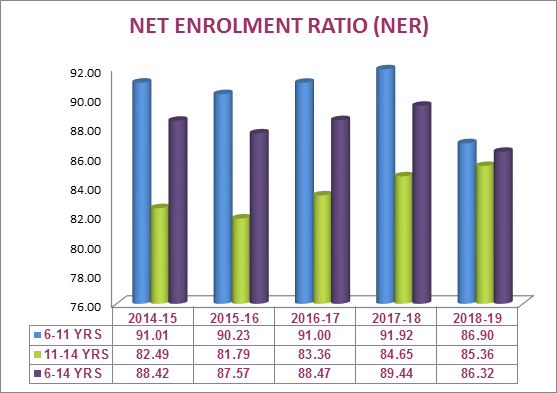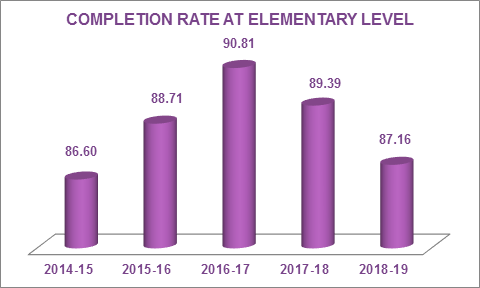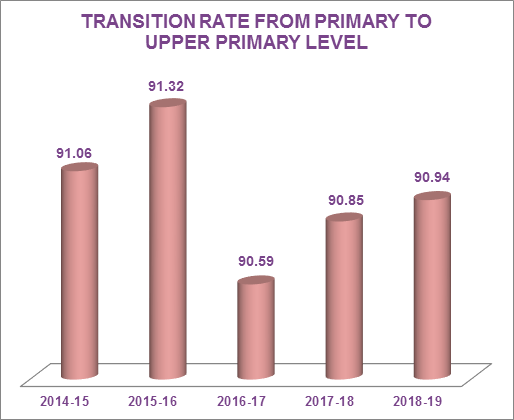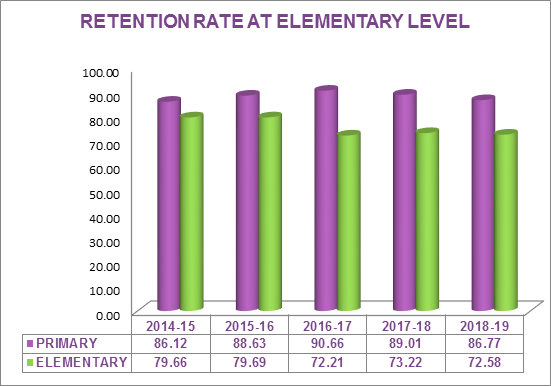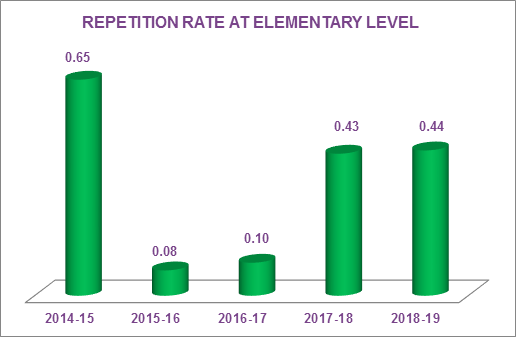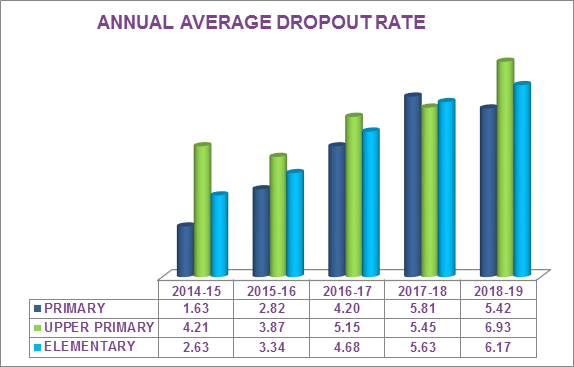 INTERVENTION WISE PROGRESS DURING 2018-19
Access
3649 children of 6-14 years age group identified as Out of School children.
1728 nos of children enrolled to age appropriate classes are being provided with in residential and non residential special training
Transport and escort facilities are being provided to 5206 nos. of children who are unable to attend schools in remote areas.
10818 nos. of children of migrant families are retained in the Seasonal Hostels in the districts like Bargarh, Bolangir, Kalahandi , Mayurbhanj and Nuapada at source point and Cuttack and Khurda at destination point.
904 urban deprived children are rehabilitated in the Residential hostel functioning in 11 districts.
Residential school in LWE districts at Malkangiri has been functional with 60 children.
The policy of rationalisation of schools have been notified by the Govt. vide notification no 10442 dtd. 14.5.2018. 2152 nos. of Satellite Schools will be merged with 1954 nos. of Lead Schools under this policy.


Retention
Textbooks & MDM provided to all students from Class-I to VIII in Govt. & Govt. Aided schools.
Uniforms and School Shoes provided to all Girls and Boys belonging to SC/ST/BPL categories studying in Govt. Elementary Schools. State Govt. has taken steps to provide uniform to APL boys in Govt. schools and all children in Govt. Aided schools.
Children of migrant families are retained in Seasonal Hostels.
Urban deprived children are admitted to Residential Hostels through Rescue and Rehabilitation mode.
Children are provided transport & escort facilities.
The Bal Jyoti programme under Inclusive Education is an innovative programme for comprehensive screening and testing of Visually Impaired Children through mobile ophthalmic unit conducted in SSA. The objective of the programme is to provide eye care facilities like vision screening, on the spot spectacles distribution and to provide eye surgery.


Education for ST/SC children
MLE implemented in 21 tribal languages for children belonging to tribal community from class I to V in 1485 schools of 17 tribal dominated districts.
A State-level Policy made by the Government for facilitating and accelerating the Mother-Tongue based MLE for all tribal children of the state
3364 Shiksha Sahayaks for 20 languages in 15 districts and 231 Language Instructors are in position to impart teaching in Mother Tongue.
'Srujan' a childrens' activity calendar has been provided to all schools of the state to organize 12 different child centered activities at school level involving the community member.
302 textbooks, more than 2500 Supplementary reading materials including Story books & Pictures charts in 21 tribal languages have been developed.
SURAVI- A State level children festival has been observed at the State level covering 3200 participants from 30 districts on the eve of children day w.e.f 14th -16th November 2018.
25 students of Odisha have been participated in the "Pariksha Pe Charcha 2.0" programme organized by MHRD, GOI, New Delhi on 29th Jan 2019.

Girls' Education
Orientation Programme on Adolescent Health issues and Counseling with the module "KAISORE BICHAR MARGA DARSHIKA".
28,234 nos. of Upper Primary school teacher have been trained under "KHUSI" Programme
314 no. of State Resource Persons have taken refresher course on Self Defense Training Programme during 2018-19 by 8 nos. of State Experts. Refresher Course for the Districts Resource Group has completed with 3363 nos. of schools.
National Girl Child Day observed in all schools to create awareness among girls on gender issues.
For addressing gender issues, Internal Complain Committee has been formed.
In Nayagarh district "Beti Bachao Beti Padhao" (National Prog.) has been implemented.
School Uniform including School Shoes has been distributed to 2173981 nos. of Girls and 2017398 nos. of Boys.

Kasturba Gandhi Balika Vidyalaya (KGBV)
Addressing issues of girls drop out in Upper Primary Schools, gender and regional disparity in literacy level especially for girls belonging to SC, ST, OBC and minority in Educationally backward blocks. 182 KGBVs have been operationalized in 23 districts enrolling 18,400 girls. Particularly 1 KGBV has been opened in Bhadrak district for Muslim minority girls.
Safety & Security measures taken through convergence with local police, community members and administrative authority.
Free Text Book, Uniform and stipend have been distributed to all girls.
Vocational training imparted in all KGBVs
Remedial teaching provided by the Part Time Teachers to the KGBV inmates.
Educational Stationery have been provided to all the KGBV girls.
Incinerators have been constructed/installed and CC TV have installed in all KGBVs.
All KGBV girls have been trained on Self Defense techniques.
Activity wise Progress of Inclusive Education Intervention for CWSN 2108-19
No of CWSN enrolled in schools class I to VIII-
No of parents of CWSN provided one day training-
No of Braille books supplied to blind students-
No of children provided assistive devices-
No of children provided escort & transport allowance-
No of Medical assessment camp conducted at block level-
District Resource Center functioning for CWSN at district level-16 districts
632 BRP (CWSN) engaged to provide resource support to CWSN
1212 PH IE Vlunteers engaged to provide support services to CWSN.
36753 School children provided with Spectacles through Bal Jyoti & SUNETRA Programme.
93607
33849
2204
4459
24766
258
Interventions for ensuring Quality Education
Remediation materials on UJJWAL for Odia-1, Odia-2, Mathematics-1,Mathematics-2, English for the children of Class II to V .
UTTHAN Materials for Mathematics, Odia, English and Science for the children of Class VI to VIII has been prepared and remediation books equal to NT books are being supplied to the 30 districts of Odisha.
The ongoing remediation programme is being monitored by Online Monitoring App by the CRCC/BEO/DEO/DPC/Pedagogy Coordinators & Nodal Officer of respective districts.
GANITA KALIKA ANDOLAN is a programme being implemented in collaboration with AKSHARA Foundation, Banglore in two districts named Bolangir and Rayagada on a pilot basis.
Continuous and Comprehensive Evaluation (CCE) for classes 1 to 8 implemented in the State as per the provisions of Right to Education Act.
CAL programme is implemented in 3102 Govt. Upper Primary schools.
Computer Course has been introduced in all Govt. and Govt. Aided Upper Primary schools and Text books on computer has been developed including training manual.
In-service training has been imparted to all teachers in Govt. and Aided Elementary schools.
CRCCs having 5 years or more tenure have been reverted back to their parent post and new deployment has been initiated.


Management Information System (MIS)
Unified DISE implemented through the support of NIEPA for collection of annual information from all Elementary, Secondary and Higher Secondary Schools.
Database of all Students with AADHAAR tagging and Assessment Tracking is being carried out since 2017-18 through SDMIS.
On-line Teacher Profile has been maintained for all Teachers working in Government & Aided schools of the state.
Private School Management Portal introduced to facilitate Private Schools to register on-line, provide information on 25% reservation of seats for socially backward children and obtain NOC/COR .
Teacher recruitment, Teacher Transfer process etc. has been made on-line.
All on-going civil works at school level are monitored through Project Monitoring App used by all Technical Consultants at Block level.
Online School Monitoring App has been implemented for overall monitoring of the school Education System by the CRCC/BEO/DEO/DPC/Coordinators & Nodal Officer of respective districts.
Media and Documentation
Publication of Suravi multi-colour Newsletter-cum-in house children's quarterly-Informative programme.
Organised State Level Children's festival Suravi.
Audio Video Documentation films / Spots on Ujjwal & Utthan under LEP Programme, SATH-E initiative of NITI Aayog to ensure quality education, Social Audit, Srujan, Child Tracking System (CTS), Adolescent Health Issues & counselling, Suravi - Children's Festival-2018 to promote RTE-SS mission, Adarsha Vidyalaya, MDM, Multilingual Education (MLE), Bi-Cycle Scheme, Sabudina Jiba School, Pravesh Utsav-2018,Seasonal Hostel
Printed Multicolour different posters containing appeal messages of Hon'ble CM on Community Mobilisation for all SMC members, standard operating procedures (SOP) booklet for sustaining water sanitation and Hygiene in schools under Swachha Bharat : Swachha Vidyalaya Programme, Newsletter The Prayas of Ganjam Districts on inclusive education for CWSN, Posters and small booklets in Odia & English among the students in schools across the State under Khele India : Khile India programme of Samagra Shiksha, Printed and distributed Swachha Vidyalaya : Sustha Vidyalaya.
Notifications & guidelines for implementing the RTE Act.
RTE has come into effect from 1st April, 2010.
State Rules (ORCFCE Rule, 2010) notified on 27-09-2010.
Issuance of other Notifications:
Prohibition of corporal punishment & mental harassment in schools
SCPCR notified.
TE & SCERT as Academic Authority
Discontinuation of Board Examinations at Elementary Level
Prohibition of Screening Procedures & collection of capitation fee during admission
TET guideline issued and examination conducted
Guidelines for admission in private unaided schools and notification for defining the disadvantaged children.
Circular on prohibition of teachers' engagement in non-academic activities as per the RCFCE Act, 2009 has been issued.
Grievance Redressal mechanism through School Student Helpline
Notification on neighbourhood norm, definition of out of school children & modification of Local Authority made.
Text books & uniform declared as child entitlement at elementary level.
About 77% of NT Books from Cl-I to VIII have already been supplied by TBPM to 30 districts as on 23.04.2019 for the academic year 2019-20.
Mechanism for Special Training (curriculum) developed by the Academic Authority.
Grievance redressal mechanism for both teachers and students set up at both state and district level.
School Student Help line (SSH) has been set up to address teacher absenteeism, student harassment cases and any type of violation of RTE Act in the school and the toll free number is 1800-345-6722 which is available and displayed in all schools.
Instructions issued to all private recognized schools for admitting children belonging to disadvantaged categories which should be minimum. Private School Management Portal implemented for online registration of private schools for monitoring regarding RTE compliant.
Notification issued on establishment of school without obtaining certificate of recognition from appropriate authority.
State Curriculum has been developed in the light of NCF 2005.
TET conducted in the state for the recruitment of qualified teachers at elementary level.
COMMUNITY MOBILIZATION
Community Diary
Community diary is a combination of information, calendar of activities for creating awareness among the SMC members.

SRUJAN Calendar
It is an activity calendar containing guidelines for conducting different child centered activities in all schools of the State.
SURAVI-News letter-cum-children's quarterly
News letter-cum-Children's quarterly prepared by students & teachers to develop a love for reading, writing skill and active learning level appropriate to the class of study.

ON-LINE GRIEVANCE REDRESAL UNDER RTE
School Student Helpline toll free No 1800-3456722 has been operationalized since October 2010.
Objective :A unique attempt to hear the voices, opinions, issues of students and redress accordingly & act as a means to sensitize the parents, teachers & children about RTE.
Time of Call : 8.00A.M to 8.00P.M in two shifts(12 hours) on all working days.
Target Group : All school age children both in and out of school, their parents, SMC members can lodge their grievances
Operational Strategy:
Receipt of grievances with Recording
Online registration& Categorisation
Forwarding to competent authority
Enquiry & Reporting
Review of Compliances and Disposal
Major Activities Under Taken:
Awareness programme of children & mother on safe school environment, Right decision, Traffic rule, Safe use of social network.
Training of Teachers on positive discipline & Counselling